Hi all, P&P is in it's 27th week and the time has come to re-asses the party and determine whether and how to move forward with the event. Do you enjoy seeing all the studios? Do you benefit from playing along and seeing what supplies are used and how other artists produce their works? Is there something you feel that is missing from the party or something you would do differently if you were running it? Would you be happy for P&P to end or do you want to see it continue? Please let me know in the comments below.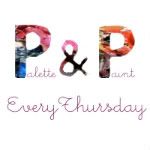 I'd like to thank all who played along last week it's always a pleasure to visit your blogs and see what you are working on. Below is the showcase from last week with photos and links to the blog posts. Please click through to each artist's blog post and have a read, and leave your thoughts, we all like comments!
Now it's your turn...If you are NEW please read about the
P&P Blog Party
before linking.
Comment on this post using Facebook:
Comment on this post using Blogger, WordPress, Type Pad, LiveJournal, OpenID, AIM or Name/URL: