Good Afternoon... I'm a little late in doing the blog party this week, apologies, I've been fighting a cold, I just can't seem to shake it. But I won't let that stop me sharing with you all what everyone got up to last week. So lets get the party started by having a look at last's week's submissions. Pop over to each artist's blog post and have a closer look by clicking on their name or their photo.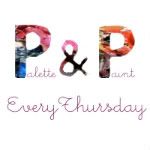 Jenn
Your palettes and paintings are AMAZING and so inspiring.
I'll be sharing the SHOWCASE #9 throughout the day on:
Flickr
|
Facebook
|
Pinterest
Here's all the P&P SHOWCASES.
If you see a piece you'd like to know more about
visit
flickr
for the artist's blog link
Now it's your turn...