It's Thursday, do you know what that means? It's P&P time! Grab a cuppa and do the blog hop to see what all our wonderful artists have been doing in their studios. And if you'd like to share with us what you've been up to, please do! (link below).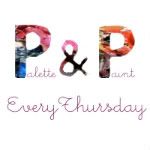 Notice how, out of the five artists that joined in last week, we all used different mediums to produce our art, how extraordinary is that? Such Variety, such talent in this blog party, you should all be very proud of yourselves. Without further ado, here's the showcase from last week:


Tracey
Click on the photo or the name to read more about each artist and their work.
! COME JOIN THE PARTY THIS WEEK !
If you are NEW please read about the
P&P Blog Party
before linking.
Comment on this post using Facebook:
Comment on this post using Blogger, WordPress, Type Pad, LiveJournal, OpenID, AIM or Name/URL: