*happy dance* It's Thursday again! Time for P&P, so if you love having a sneak peak into painters studios, grab your cuppa and have a browse through the AMAZING artworks the artists create and share with us each Thursday. You may even want to play along this week, take a photo of your palette and paints (and paintings too) and link below.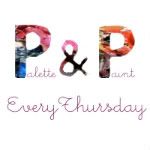 If you missed it, here's what everyone got up to last week:
! COME JOIN THE PARTY THIS WEEK !
If you are NEW please read about the
P&P Blog Party
before linking.
Comment on this post using Facebook:
Comment on this post using Blogger, WordPress, Type Pad, LiveJournal, OpenID, AIM or Name/URL: