Pinch & Punch! It's the first day of the month here in Australia. You know what else it is today? That's right, the more enjoyable...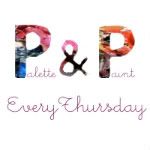 I think it's more pleasurable to be on the receiving end of the P&P blog party, than it is to be on the receiving end of the P&P first day of the month ritual. Make ART Not WAR, I say! Last week there was lots of beautiful images being created, these artist are making the world a prettier and better place. Pop on over to their blogs and have a peak around - just double click on the top of the photo or single click on their name.
'Inviting, breathtaking and outstanding' - to quote comments on Peggy's post.
A beautiful piece for the 'expecting' challenge.
Ellie you are moving and still find the time to pick up a brush,
Do you have any tips or trick for us on how you do that?
Paint, paint, glorious paint. You should pop on over and see Nordljus photo of her paints.
Also, she shares the process she went through to create a beautiful transfer image (not pictured).
Talk about being productive!
A gorgeous drawing and a great selection of art materials.
Peggy shares a tip on covering large areas in her journal with colour, can you guess what she uses?
LOVE, LOVE, LOVE!
Stephanie's 29 Faces Klimt inspired painting is coming up a treat.
Visit her blog to see the full painting, she's worked more on the background too.
Last week we talked about finding the right balance between creating and everything else. I asked if anyone else was struggling with picking up the brush and actually painting when other things fight for your attention. It was really hard for me to admit that I was struggling, but reassuring that I was not alone.
Nordljus
said
'I'm struggling to find the right balance too, so I don't have any tips and tricks - but would be grateful to get some. I also find it often hard to pick up paint and brush, even though I want to, but once I've finally started, the hours just fly past..'
This week has been a lot better, I sat down and made a weekly plan, one for business and one for personal achievements and I did a daily schedule for the week incorporating all my goals, setting times when I would do each task. I've been more focused and feel like I've achieved more towards my long term plan this week. Sitting down writing these lists has been really helpful to point out where I could better spend my time and what my priorities are.
Do you plan your day/week?
I'll be sharing the SHOWCASE #14 throughout the day on:
Flickr
|
Facebook
|
Pinterest
Above is a slideshow of all the P&P SHOWCASES.
If you see a piece you'd like to know more about
visit
flickr
for the link to the artist's blog
Now it's your turn...
If you are NEW please read about the
P&P Blog Party
before linking.
Comment on this post using Facebook:
Comment on this post using Blogger, WordPress, Type Pad, LiveJournal, OpenID, AIM or Name/URL: