Last week I asked what you thought of P&P's future and whether or not to continue the party. I got no response for or against the idea, so sadly I've decided that it would be best to fade out the party over the coming weeks. It has been fun, and lots of amazing artists have shared with the party and I'd like to thank you all for playing along.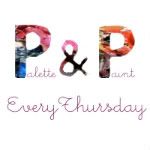 Below are the blog party participants from last week. Click on the images or the name to visit each artist's blog post.
If you would like to play along this week, please leave a link to your post in the comments.
Happy Creating - Tracey.
Comment on this post using Facebook:
Comment on this post using Blogger, WordPress, Type Pad, LiveJournal, OpenID, AIM or Name/URL: