The days and weeks are blending into each other, can it be Thursday again? Really? It must be, the calendar says it's time for another P&P studio tour, so let the party begin!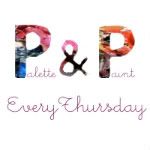 ! COME JOIN THE PARTY THIS WEEK !

Take a photo of your painting(s) and your paints and link below.


Comment on this post using Facebook:
Comment on this post using Blogger, WordPress, Type Pad, LiveJournal, OpenID, AIM or Name/URL: