It's that time again!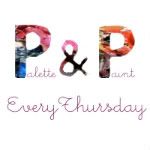 A big thanks to all that played along last week, seeing your palettes and paints is so wonderful.
I think a lot of your choices about medium and colours influence the end product, what do you think? Please let me know your opinion on this in the comments.
If you haven't pop over and commented on each artists blog, please do, simply click on the photo (above left corner) or on the name underneath the photo to be taken to each blog post.

The P&P SHOWCASE #21 will be shared throughout the day on:
Comment on this post using Facebook:
Comment on this post using Blogger, WordPress, Type Pad, LiveJournal, OpenID, AIM or Name/URL: