It's that time again!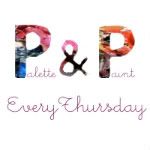 Each time Thursday rolls around, I get really excited because it is an opportunity
to have a peek inside the studios of some very talented artists and to see what they've been up to.
What an inspiring bunch, don't you think?
If you haven't pop over and commented on each artists blog, please do, simply click on the photo (above left corner) or on the name underneath the photo to be taken to each blog post.

The P&P SHOWCASE #21 will be shared throughout the day on:
Comment on this post using Facebook:
Comment on this post using Blogger, WordPress, Type Pad, LiveJournal, OpenID, AIM or Name/URL: