Can it be Thursday again? For me this week has been quite the blur, I've had a nasty cold, it's been a persistent one this time, lots of rest and tea for me. We'll enough about me, it's time for P&P!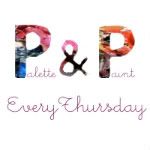 Every week I get really excited to see what others have been up to in their studios and to see their equipment, what they create with. The bar is raised very high, the participants are of great talent and skill, both Peggy and Stephanie who joined the party last week are examples of what I'm talking about, they make it a pleasure to host this blog link party.
It's such a treasure to see what
Stephanie
gets up to in her studio,
she has been working on some gorgeous small paintings of her garden.
I love visiting
Peggy
's blog, her colors are always beautiful
and her supplies make me want to jump into the screen and play.
I (
Tracey
- your host) have been learning all about color for portraits.
To find out more about each artist's work, click on their photo or name in the caption, it will take you to their blog post. Past blog party participants can be found at
P&P
or in the below albums (each photo is captioned with the link so it's easy for you to find the original blog post by each artist). Happy Creating!
The P&P SHOWCASE #18 will be shared throughout the day on:
Comment on this post using Facebook:
Comment on this post using Blogger, WordPress, Type Pad, LiveJournal, OpenID, AIM or Name/URL: